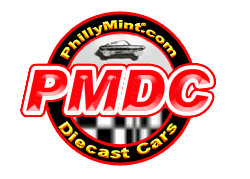 "Tony's New Jersey" Franklin Mint Collection
Updated 2/21/18
Franklin Mint
from "Tony's New Jersey" Franklin Mint Collection
Most of the Franklin Mint diecast cars in this collection were purchased directly from Franklin Mint and other secondary sellers. They were immediately placed into enclosed glass display cases. The models were then placed into climate controlled bedroom storage approximately 7 years ago.

The paint finish is glossy and in excellent condition. Vinny's Used Cars will offer those models that were displayed without enclosed cases and are too dusty to offer as mint condition.

Some models include papers. See the description below.

The original boxes are in very good condition with some writing or shipping labels.
1948 Cadillac EldoRod by Boyd Coddington - Burgundy
1955 Chevrolet Bel Air Sport Coupe - Red & Ivory
1956 Chevrolet Nomad Service Wagon - Red & Cream
1968 Chevrolet Chevelle SS396 Convertible - Tripoli Turquoise
1948 Chrysler Town & Country Convertible - Green
1988 Corvette Sport Coupe 35th Anniversary - White
1964 Ford Mustang Convertible - Poppy Red
1970 Oldsmobile 442 Hardtop - Metallic Nugget Gold
1955 Packard Caribbean Convertible - White, Rose & Pearl
1977 Pontiac Trans Am "Smokey & The Bandit" - Black
1965 Shelby Mustang GT350 - White w/ Guardsman Blue Stripes
1966 Shelby Cobra 427 S/C "Mistress of Fire" - Artwork by Boris Vallejo
1966 Shelby Cobra 427 S/C - Aluminum Body