Good Morning Newsletter Members,
PhillyMint Diamond Club - Enjoy fast FREE shipping for ONE YEAR, exclusive access to our upcoming limited editions, and other special members-only promotions to be announced. To join the club, order the three 2017 PhillyMint 1:24 Limited Editions below and be sure to select free shipping at checkout. Your one year membership begins the day you place your order. Free U.S. shipping for Diamond Club members includes all models and scales available on our website including Vinny's Used Cars.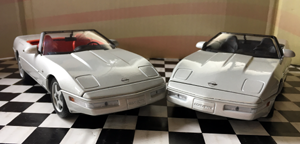 #51093set: 1996 Corvettes $79.95pr + FREE SHIP
1970 Dodge Challenger R/T VP 109.95 + FREE SHIP
Already own our three 2017 PhillyMint Limited Editions? Effective today, August 1st, 2017, you are automatically enrolled in the Diamond Club with FREE U.S. shipping for one year. This is our way of saying thank you for your loyalty. Call or email Nicole if you are unsure of your membership status.
The Diamond Club is extremely limited, once we reach 250 members, enrollment for 2017-18 will be closed. Enroll today!
Enjoy Your Models!
Vinny & Nicole
Celebrating 25 years in Diecast Model Cars 1992-2017
Toll Free U.S.A.: 1-800-227-7301 U.S.
International: 856-228-0152
Office & phone Mon-Friday 9:00-5:00 CLOSED DAILY 12-1 for lunch CLOSED SATURDAY-SUNDAY