Franklin Mint / Harley Davidson WLA Military Motorcycle / Windup Tin Toy / Released in 2002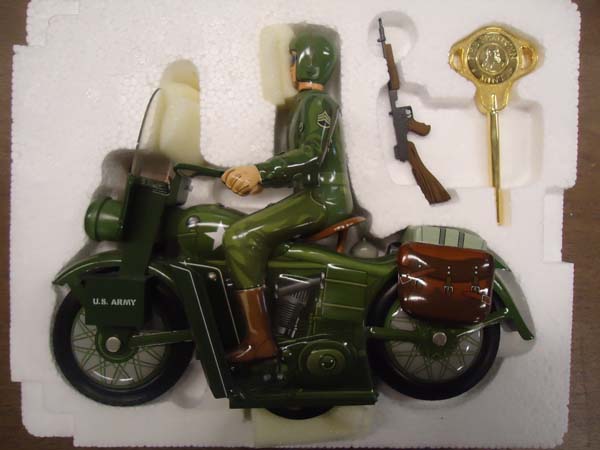 Toy measures 9" in length and 7" in height. Comes with gold metal windup key and rifle.
from the "Arizona Dave" Franklin Mint 1:10 Harley-Davidson Collection
The majority of Harleys from this collection were purchased directly from Franklin Mint.

Arizona Dave, a lifelong Harley-Davidson enthusiast, displayed his models in glass display cabinets. From a smoke/pet-FREE environment.

All motorcycles in this collection were inspected by Vinny for broken or missing parts to ensure PM Heritage Collection standards.

The glossy paint finish is rash-free from the dry climate of Arizona.

All but 4 models include a Certificate of Authenticity and/or collector's portfolio and hang tag.

Mint-excellent condition original boxes that show they were well cared for while in storage. Some were purchased from Gallery Stores.

This first generation collection was enthusiastically maintained by a Harley Davidson enthusiast.

Satisfaction Guaranteed!
Part #: ZM44
Condition: Mint in the Box w/ Papers
Price: 0.00
Status: Out of Stock