Franklin Mint / 1984 Corvette Sport Coupe / Error Version / 1:24th Scale
Light Blue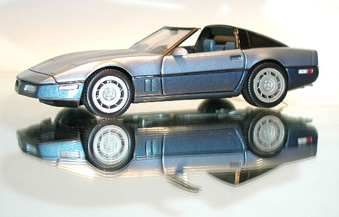 The existence of two distinct versions of this model was first reported by Roy Rauch in his, "What's Hot, What's Not" column, Volume 1, Issue #17. He related that the diecast was issued incorrectly and that National Corvette Restorers Society and Corvette Club members pointed it out to the Franklin Mint. Soon there after, and as Raffi Minasian recalls, the car was soon changed. The model was released only days after Raffi's arrival at the Mint. I know he would have caught the error but fortunately, or unfortunately for us collectors, not many were apparently made in their incorrect configuration when the mistakes were brought to light. Specifically, three main issues are involved. The '84 Corvette, as Chevrolet built it, has a body-colored roof bar. Raffi refers to this as a 'basket handle'; Roy calls it a 'top strap'. But every 1984 Corvette has the same paint as the body, on that roof bar just in front of the rear window. Secondly, that large rear window should be clear with only a hint of a tint. Thirdly, the wheels feature a black painted center section. The incorrectly issued FM model had a black roof bar, a darkly tinted-nearly black rear window and completely painted silver wheels, with no black center (Click Here To View The Correct Version).
from "Mike's Factory Fresh" Franklin Mint Collection
This collection was purchased directly from The Franklin Mint, opened for inspection but never removed from their boxes. All original tissue and packing materials are intact. The models were then stored in his climate-controlled spare room.

Mike is the owner of a well known restoration supply company for classic cars and a racer/restorer of classic Camaros and Corvettes. A meticulous executive!

Tier 1 condition - New Old Stock (NOS Mint in the Box)

Like-new, rash-free paint.

Includes Certificate of Authenticity, blue sheet or how-to-care instructions.

Excellent-good condition original boxes, most without postage.

This is the best condition Franklin Mint collection we've acquired in 2018!
Part #: VB58-Error
Condition: Like-New Storage Find / Mint in the Box w/ Papers
Price: $49.00
ClearancePrice: $34.30
Status: In Stock