Franklin Mint / 1957 Corvette 283 Fuel Injected Convertible / Wal-Mart Limited Edition / FM DISCONTINUED / 1:24th Scale
Black w/ Inca Silver Cove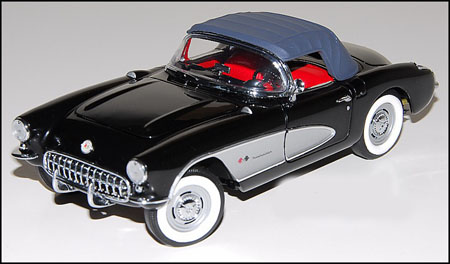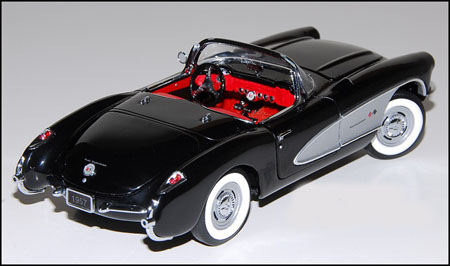 This is a Franklin Mint repaint of their diecast 1957 Corvette "fuelie" originally cast in red. Later reprised with whitewalls, we considered it a so-called error version. More on that in a second or two. A fiberglass version followed and had tremendous detail differences. This is a black version of the first model based on the 3/93 release. The seats have been updated by granting more and correct waffle-pattern texture but nothing else, that I can readily spot, has been modified.
FM, once again replicated this model with the RPO code 684. It granted the buyer a full suspension package and even included brake ventilation. Officially called Heavy Duty Racing Suspension, it was the most costly option item available for '57. At $780.10 it only made its way onto 51 vehicles. Add another $15.10 and you got the RPO option code 276 15x5.5 wheels. Also 51 units were so equipped. Slots in the wheels aided in brake cooling. For full cooling benefits no wheel covers were used, hub caps were; dog dish hub caps, to be specific. Generally seen on the 283/283 fuelie, the largest of the available Rochester Ramjet FI units that year, were purposeful black walled tires but whitewalls were indeed available on a customer-ordered car. Do not confuse this as an error as such. In FM's redress of their red diecast 57 fuelie, we considered the model as an error not so the 1:1 that it duplicated. The model was to have the black tires as initially issued but carried the whites instead by mistake. That was later remedied.
In Onyx Black with silver coves and red interior, the model is striking. It sits right, as the 1:1's did and the little dog dish caps add a certain flair for the unusual. Most people liked the full wheel covers back then and I suspect that folks today will too. But if you are a Corvette collector or even if you are speculating as to what FM and Wal-Mart have in store for the future, you may want to consider this issue. T.P .(This version was only available in 100 WalMart stores so don't delay. Also note, WalMart editions are packaged in window boxes, not styrofoam. It does include paperwork and hang tag.)
from the "Garden State Chevrolet" Franklin Mint Collection
The models in this collection are in mint condition. They were purchased directly from Franklin Mint, and then placed into airtight enclosed display units.

Adult owned from a pet-free & smoke-free household.

Since the models were properly displayed, the paint is glossy and virtually rash-free.

Most models include original paperwork, but for this collection, paperwork is not guaranteed. If we have it in our library, we will include it.

The overall condition of the boxes is good to excellent condition.

A comprehensive Franklin Mint Chevrolet collection of this magnitude and condition is very hard to find. Satisfaction Guaranteed!
Part #: E228
Condition: Mint in the Box
Price: $65.00
Status: In Stock