Franklin Mint / 1967 Corvette Convertible / Wal-Mart Limited Edition / FM DISCONTINUED / 1:24th Scale
Red w/ black stinger hood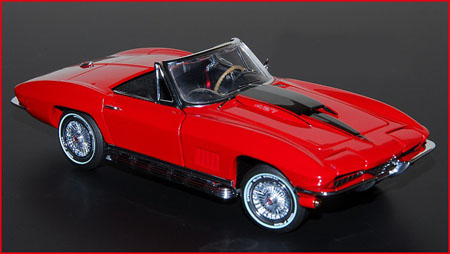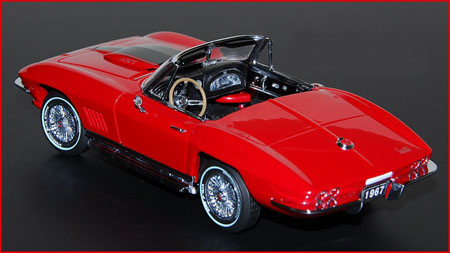 This model is substantially the first and original release they issued in 1994 in Tuxedo Black. I wondered why they didnít repaint the model this color after looking at the passengerís side of their clear cast issue in red; it looked really good. Well, itís taken a while but here it is. A boon to the collector? An attraction to the new and un-seasoned diecast-to-be-diehard? Who knows, but try not to speculate on these models. Few, any longer, are going to be instant retiree-makers. Youíve all heard it before, collect what you like. I suppose that is still true. And hey, I like this model. Yes, it is old technology. But there is good engine detail, excellent paint coverage and itís a Corvette, a sure sale in the diecast marketplace.
from the "James Dean" Franklin Mint Muscle Car Collection
Most of the models in this collection were purchased directly from a FM Gallery Store in Pittsburgh. The models were then placed into climate controlled bedroom storage.

The paint finish is like-new without any humidity-based paint rash.

All models include paperwork carefully filed in manila envelopes.

Most of the original boxes are in near-mint condition having been purchased directly from a gallery store without postage or USPS/UPS handling.

Most models have original protective material ie: tissue or acrylics (where applicable)

We proudly present this exceptional muscle car collection to you, Satisfaction Guaranteed! We're confident that once you purchase one, you'll want to come back for more!
Part #: E224
Condition: Mint in the Walmart Edition Window Box w/ Papers
Price: 0.00
Status: SOLD! Thanks Eddie!