Danbury Mint / 1946 Dodge Power Wagon / 1:24th Scale
Red & Black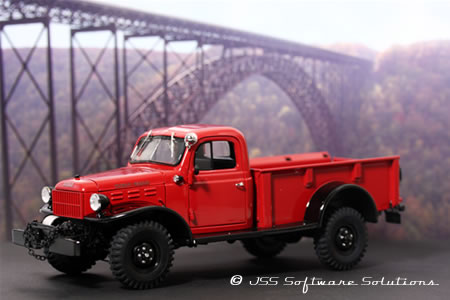 After WWII, returning American G.I.'s wanted their own civilian version of the tough vehicle used to perform tasks even Jeeps couldn't manage. Dodge answered their call with this workhorse. This truck is more than a "cork popper" in my honest opinion. Pulling the model out of the box and viewing all its stunning detail simply blew me away. If you are looking for one truck to add to your collection look no further; you found it.
from "Barry's Empire State" Danbury Mint Collection
This collection was purchased directly from The Danbury Mint, opened for inspection only. Most original tissue and packing materials are intact. The models were then stored in his climate-controlled spare room.

Tier 1 condition - New Old Stock (NOS Mint in the Box)

Like-new paint as delivered from Danbury Mint.

Includes Title and/or Care Instructions.

Excellent-good condition original boxes.

This is a well cared for Danbury Mint collection. Satisfaction Guaranteed!
Part #: DM1582M
Condition:
Price: $0.00
Status: SOLD! Thanks Donald!