Danbury Mint / 1953 Studebaker Commander Starliner / 1:24th Scale
Bombay Red & Salem White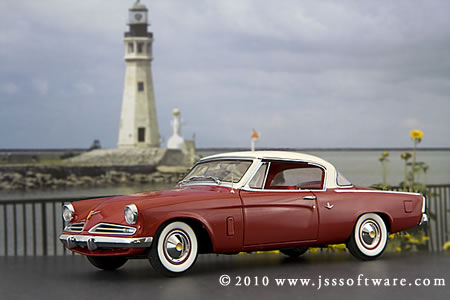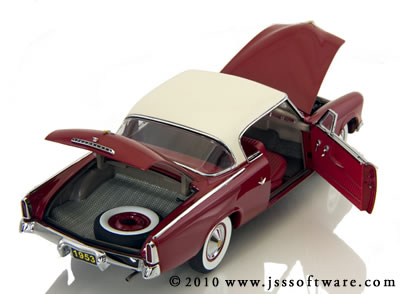 Brand new tooling swathed in rich hand-finished Bombay Red and Salem White, is simply stunning. Floating on Studebaker's signature "dimpled disc" wheel covers and whitewalls, the masterfully sculpted image -- with its opening doors, hood and trunk -- is highlighted by true-to-scale accents, badges, script, and even functional fender vents and gas filler door!

Equally intriguing is the detail of the 1953 Studebaker Commander Starliner's V-8. Angle the hood prop into position to take a closer look. The 232.6 cubic inch motor pumped out 120hp and, linked to a three-speed manual shift, the Starliner could add quickness to its low-center-of-gravity nimbleness! You will certainly appreciate our commitment to accuracy and detail, which is also evident on the underbody of the car.

Inside the finished trunk, you'll have access to a removable spare tire. And then there's the Cardinal Red interior, where you'll find meticulous attention has been give to the legible instrumentation, the pleated seat surfaces, the door panels, and the back arm rest. You can even pivot the visors and tilts the back seats forward, if you wish.
Part #: DM1615M
Condition:
Price: $0.00
Status: Out of Stock