Smart phones rotate to landscape mode for best view
Since 1992, the only exclusive site for buying & selling Franklin & Danbury Mint Diecast Model Cars.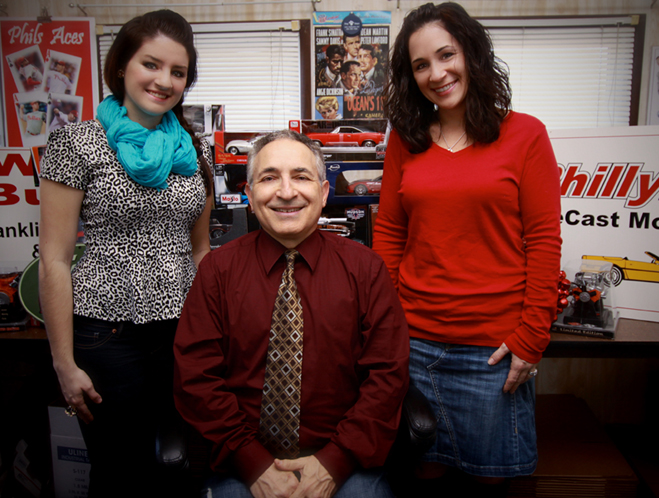 My niece Nicole on the left, Vinny and my daughter Dawn on the right
WE ARE BUYING
Franklin Mint Diecast Model Cars
Danbury Mint Diecast Model Cars
West Coast Precision 1:24
GMP -1:18 & 1:24
Highway 61 1:18 & 1:24
Supercar 1 1:18
Acme 1:18
Lane Exact Detail 1:18
Ertl Authentics American Muscle 1:18
Payment-FAST. Direct to your PayPal account or overnight check.
We guarantee to pay more than anyone when buying in bulk lot, why consign?
Prepare Your List For An Offer & email or call 856-352-2632 to discuss with Vinny. Lets get the ball rolling.
UPS Shipping, delivery or pickup, we pay the expenses.
Condition means everything!*
*Tier 1: New Old Stock (NOS) New in the Box or Mint in Box MIB" they are sale ready.
Models that were never displayed, a like-new model with original box & paperwork. Climate controlled & correctly stored with no heat or humidity damage. Inner & outer styro boxes are crisp, near white & like new. ( no "diecast chemical compound signature" or "Zinc Pest" becomes DIECAST PAINT RASH, not #1 models. NO MISSING PARTS OR REPAIRS NEEDED!
*Tier 2: Excellent-Near Mint in the Box (MIB). Models that may have been on display but they were in air-tight cases with no dust, and you retained all the original boxes & paperwork Danbury Titles & Franklin COA. Never exposed to sunlight and in a smoke-free environment. Smooth, rash free paint. W/ NO MISSING PARTS OR REPAIRS NEEDED.
AS OF 1-7-2023 WE ARE ONLY ACCEPTING TIER #1 & #2. WE DO NOT BUY MODELS WITHOUT THE ORIGINAL BOX.
*Tier 3: Good in the Box . Similar as described in Tier 2 above except it's obvious these models saw display time without cases, uncovered, & would need cleaning by PhillyMint. Missing paperwork ok. Major paint issues not acceptable. NO MISSING PARTS!
*Tier 4 Damaged- MISSING PARTS,or models with their original boxes . Repairable or presentable as is, a 3-footer
*Tier 5: Distressed- MISSING PARTS,or models without their original boxes no matter the condition of the car. Basically only good for parts.
If you don't have time to put together a list, you can take the short cut method, email or call with the number of models by manufacture ( 20 Franklin Mint , 50 Danbury Mint, 10 GMP, etc:) and their condition. A few pictures is also helpful.
We prefer an Excel or Word Spreadsheet in .doc .docx .xls .xlsx with the following headers & sample cell entries below. (for small collections a detailed e-mail message is acceptable):
| | | | | | | |
| --- | --- | --- | --- | --- | --- | --- |
| MODEL MANUFACTURER | YEAR | MAKE & MODEL | COLOR | CONDITION 1, 2 ,3,4,5 | PART # | Paperwork Title or COA |
| Franklin Mint | 1957 | Plymouth Belvedere | Turquoise | 2 | E656 | Collectors Portfolio |
| Franklin Mint | 1957 | Chevy Hardtop | Red & White | 3 | SG66 | NO |
| Danbury Mint | 1963 | Corvette Coupe | Black | 1 | Leave Blank We Fill In | Title & Care |
You don't have the time to sell on eBay and deal with shipping, dozens of customer service issues. Consignment shops? Takes forever to get paid, & your valued collection sits in limbo.
You value a large payment and your time over the difference in dollars if you sold the models individually for months (or years). ebay listing prices are not selling prices! You must click on the 2 left hand column options: "completed listings & sold listings" and the gross selling prices will show up green. ( don't forget to deduct fees for net amount!)
EMAIL YOUR LIST ATTACHMENT PREFERRED
856-352-2632 to talk to Vinny.
<![if !supportEmptyParas]> <![endif]>